Captions are needed for many of the photos from the Amtrak Historical Society events. Do you know the names of the people in some of the photos? For photos without people, do you know what would be a proper caption for the photo? If so, you can help us out by sending e-mail with that information!
When you send us e-mail, we need to know exactly which photo you are trying to help with. There are two ways that you can sell us the exact photo: (1) Give us the exact link to the photo by copying and pasting the link into your e-mail, or (2) Tell us the year of the conference, the photos set number, and the photo number in the set.
Here are examples of the two ways that you can tell us the caption for the following photo: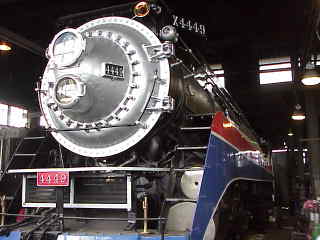 1.
http://www.trainweb.com/cgi-bin/photos/showpic1.cgi?/mvc/year2002/04/2002d27s/mvc-369f.jpg :
SP 4449 Locomotive In Freedom Train Colors
2.
Year 2002 Conference: Set #07, Photo #13: SP 4449 Locomotive In Freedom Train Colors
Using either of the above formats will let us know exactly the photo that you are refering to. Please do not send us a copy of the photo image itself. Any help that you can provide is appreciated!
Email your captions to: steve@trainweb.com
AHS Home Page